Recruiters, did you know that by simply claiming your free recruiter profile listed on Sourcr, you can make it easy for clients and candidates to find you when they are in need of you?
Quick Overview 
Make Yourself Visible To Clients & Candidates Searching Online
Let's not forget the days where not being listed on Yellow Pages basically meant that your business was invisible. Missing the yearly deadline for submitting that ad meant unable for your new customers to find you for a WHOLE year!
Good news is that society has evolved to search for businesses almost exclusively online. Either they are double-checking an address or other details. Yet not all recruitment agencies have established an online presence. Some don't have even have websites or promote their brand and roles on LinkedIn – so simply Googling the details of recruiters and agencies can sometimes deter, rather than encourage prospects and candidates to get in touch.

Are you evolving with the times? It is important that your online presence isn't just visible but also better than your competitors.
Appear Higher In Google Search Results
Having your own Sourcr Profile allows you to appear in searches better. When it comes to Search Engines – reviews make a great impact on results that show up. By collecting reviews and star ratings on Sourcr, you are making sure you appear before your competitors on Google Search Pages. Not only that but you can also showcase your experience in your profile.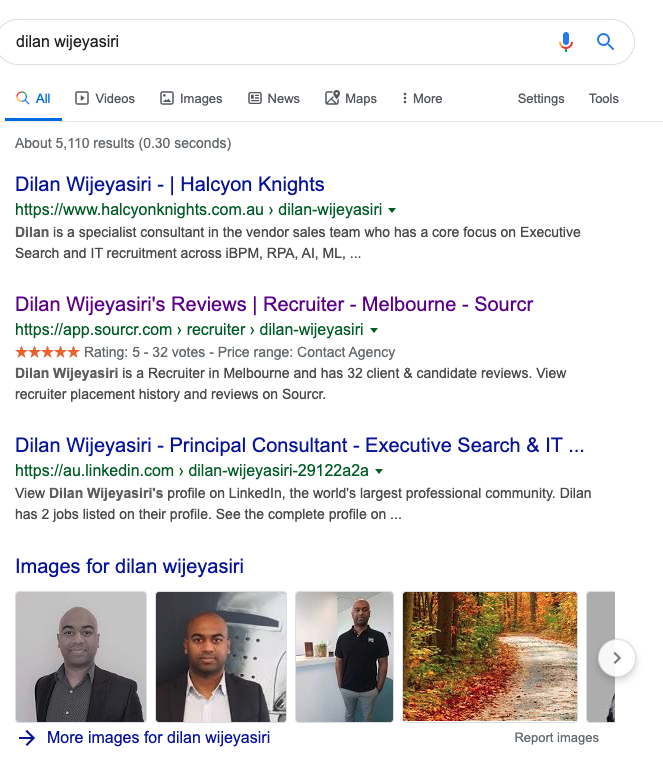 Stand Above Your Competitors Easily
Your free Sourcr profile allows you to show a listing of your company name, location, contact details, your specialities and all YOUR authentic and verified reviews. This demonstrates your experience to clients and candidates and builds your reputation and brand.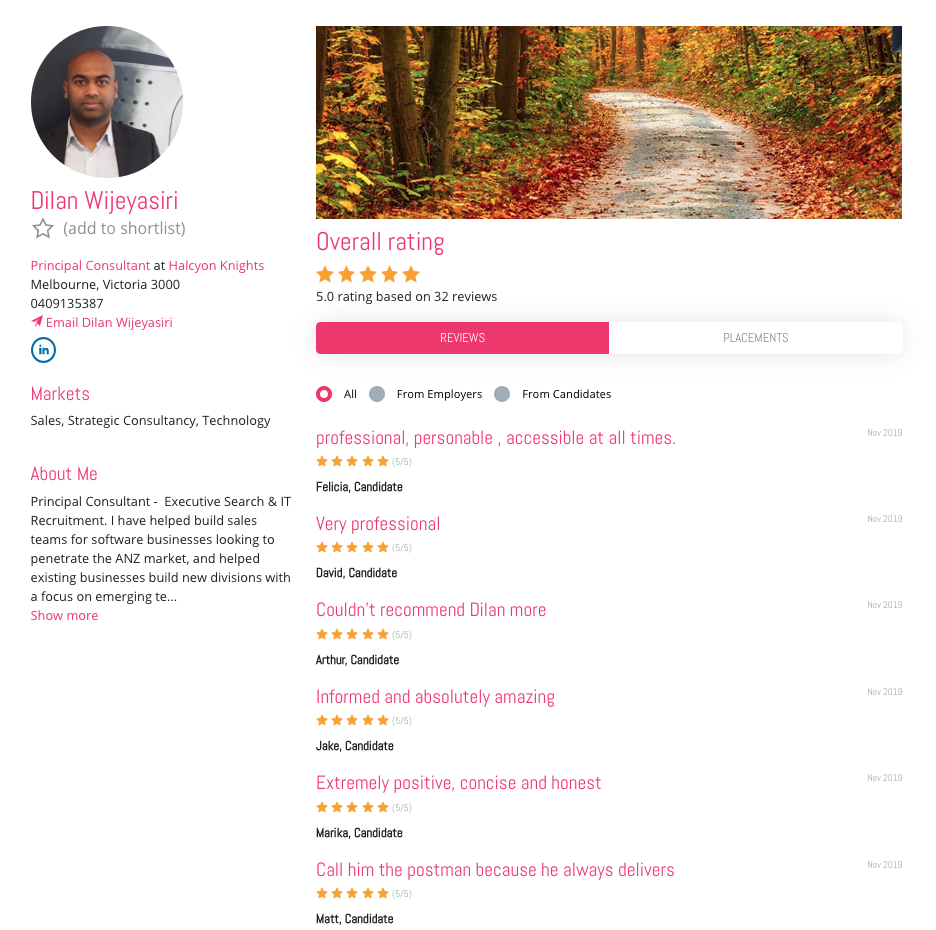 Building Your Personal Brand Is Now The Easiest Thing To Do
With the busy schedule of recruiters in mind, we made sure that their personal branding didn't need to be neglected or put on the back burner anymore. With complete control over your profile, connecting your social platforms and having authentic reviews all in one place – your Sourcr profile is your go-to personal brand page.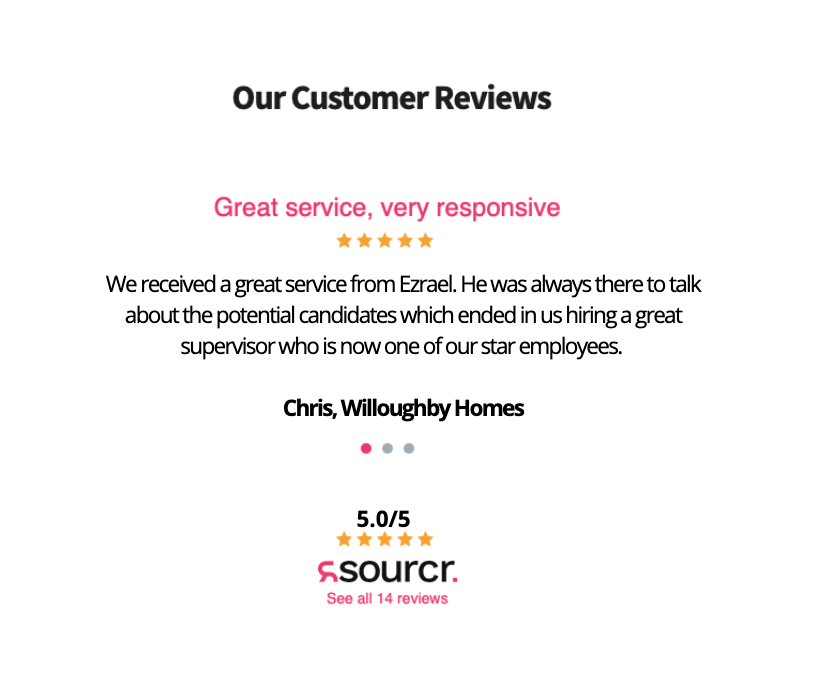 Besides you can share your reviews on your website and social media platforms with the image generator – the exact colour and background that matches your brand.
You're In Good Company
Join 1000's of other recruiters in ANZ's largest and fastest-growing online directory of recruiters. Make sure you can be found by clients and candidates actively looking for a recruiter to work with and claim your free profile.
Amplify your brand,  build your reputation and stand out above your competitors as a market leader in your niche.
Moreover, it's trusted by the industry.

Get More Without Paying More!
Your FREE Sourcr profile allows you to promote yourself and your company for free. After claiming your profile, you can:
Immediately start collecting reviews
Receive customisable widgets for your website and brand
Access social sharing of your reviews and profile
Have a weekly report delivered straight to your inbox
Have Clients and Candidates contact you directly
Start using your Sourcr profile in various ways from email signature to your outreach materials to make the most of it
In Summary
More and more clients and candidates are looking online. If you want to win more business and stand out from your competitors, you can claim your free profile and join the network of ANZ's fastest-growing recruiter platform.
RECOMMENDED READING

 

If you liked this article, why not dive deeper into how your Sourcr Profile can benefit you. 

- 6 Innovative Ways You Can Use Your Sourcr Profile

- How Customer Reviews Impact Google's Search Results 

- 5 Hacks To Boost Your Personal Brand As A Recruiter 

- The Best Ways for Recruiters To Gain Credibility In 2020