As a founder here at Sourcr, I spend a lot of my time researching recruitment businesses and how to help them promote their brand and increase online visibility.
Even with Google being the most widely used website for customers (your prospective clients and candidates) conducting research, it's surprising how most recruitment agencies haven't even done some of the most basic things to make sure you can maximise your visibility on Google.
At no cost and with very little effort you can make sure your agency and website is fully optimised to attract clients and candidates looking for recruitment support in your specialisations and location.
To help you understand the nuts and bolts of Google, firstly lets look at the break down the component of a typical google search result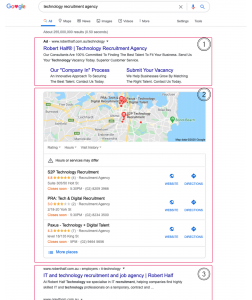 Search Adverts – At the top of the page Google displays it's adverts. These are paid adverts and the main factor Google takes in to account to be positioned here is who is willing to pay the most for that search term. In the example above the search term is "Technology recruitment agency" and Robert Half have paid for that number 1 position. It's not cheap, which makes it hard to compete for smaller agencies with lower marketing dollars but on the flip side, more often than not comes at no ROI.
Google My Business/Google Maps – Google My Business is google local listing directory for businesses. It's free and means your business can be found on Google Maps. Not only this, it's FREE!Most agencies haven't even set up their GMB account, therefore they are missing out on the displaying on the largest component of a google search result. It takes 5 minutes to set up, and is probably the most high-impact step you can take.
Organic Search Results – Google defines this as "A free listing in Google Search that appears because it's relevant to someone's search terms."Without getting too technical Google has a search algorithm to find the most relevant, useful results in a fraction of a second, and present them in a way that helps you find what you're looking for. Now this is difficult to achieve but there are some really simple and impactful things you can do without being a marketing guru that I'll come to later.
OK so now we've broken down the elements of Google, let's run through the steps to take and the advantages over your competitors you'll have by doing them.
Set up Google My Business
Buyer behaviour has changed, with the amount of data available online customers are able to do their own research and this applies to every type of business from a restaurant through to lawyers or recruiters.
87% of customers conduct online research as part of their decision making process
So candidates and clients will Google your agency name and even the consultants name and what appears on Google is a reflection of your brand. If you don't appear on Google listing, this impacts the trust prospects have in your brand and ultimately impacts your candidate pipeline and client acquisition.
Another major factor of Google My Business is reviews. So to guarantee you top the list for recruitment agencies in your area, collecting positive reviews with play a significant role. Reviews help build trust and credibility and form a major part of the decision making process. If a candidate or clients had to choose between 2 recruiters, the one with review will almost always win business over their competitor.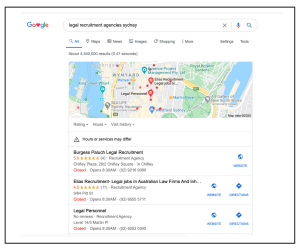 Find out here how Sourcr's Google integration helps you to increase your Google reviews on autopilot
Think of it this way: if you were approached by two agencies for a job and one business was listed clearly on Google and the other one wasn't – which would you trust to manage your career?
Here's a summary of the main advantages of Google My Business for recruitment agencies.
Your agency will look more trustworthy and credible to candidates and clients – Brand trust, social proof and legitimacy are all improved if your business is listed on Google and easy to find. This applies even more so if you have reviews.
Significant SEO benefits – Claiming your listing on GoogleMyBusiness is just as important as optimising your website as its a main source of traffic to your website. Because GoogleMyBusiness lets your agency appear in local searches, you'll rank higher in the search engine results for candidates in your area.
Stand out above your competitors – If your agency has optmised online visibility, it means your much easier to find. So this will increase candidate and client click through and conversion to your website.
Candidates and clients can find your office – Most people will use Google Maps to find your office, so it's a no-brainer that you want your business listed on the Maps app.
Reviews – Google reviews are also great to boost your listing in GoogleMyBusiness as well as search results. Sourcr's Google integration also allows you to showcase your reviews in Google search results too.
Click here to get started and set up your free GoogleMyBusiness account (you need a gmail account first) and let Google work its magic and bring you more business!
TIP: When creating your Google account, add the type of agency you are to your business name. For example: ABC Talent: IT recruitment agency. This will help you rank higher for IT recruitment agencies in your area.


RECOMMENDED READING


- COVID19 RELIEF PACKAGE: 3 MONTHS FREE ACCESS TO SOURCR PRO

- Career Building: Case Study

- Reasons To Claim Your Free Sourcr Profile