Sourcr Awards season has well and truly begun!
This is the fairest awards program out there. These awards are decided by the candidates you place, and the clients you service. They can't be bought or obtained in any other way than a fantastic customer experience. In fact, every placement a recruiter makes is another chance to get a positive review and enhance their reputation, and increase their chances of being on the podium.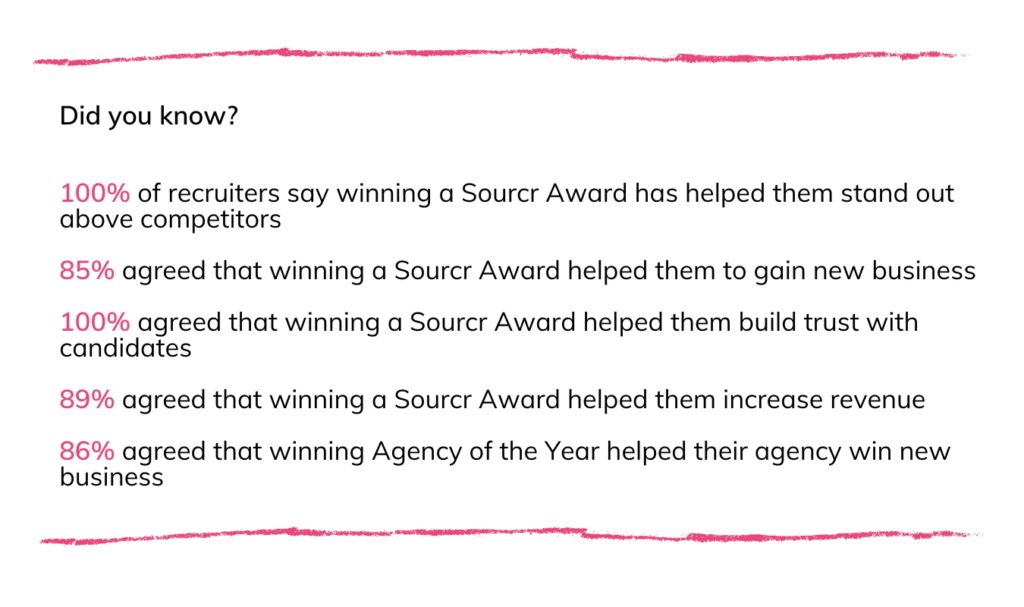 To highlight how beneficial a Sourcr award can be, we recently spoke to FOUR time winners, Archway Recruitment in New Zealand.
They won a mixture of individual and company awards which is now putting them a step above their competitors, some of which are much larger agencies.
Read on to hear how they entice new candidates, hire great recruiters and make waves in a crowded industry.
Why is online reputation and social proof important to Archway Recruitment?
We think it's important as a smaller and younger agency in the market to have a strong online presence, and demonstrable evidence that we have a service offering that differs to or is better than what others can offer. 
We need to do what we can to enhance our brand name and Sourcr is a tool that helps us to do this. 
What we have also found is that it inspires our team to be better too. When you know your service will be measured and potentially commented on, it ensures you're held to account the whole way through which helps lift standards.
I think beyond that and looking at our team and the type of people we recruit internally, most genuinely enjoy recruitment for altruistic purposes and the feeling that they are giving something meaningful to people's lives. The reviews help validate that for them so they know that they are making a difference. 
Have you seen an impact on candidate trust and enquiries?
Yes, we've had some candidates reach out through the 'speak to your recruiter' function on Sourcr. It's great to have another means to attract talent for us, especially in this market.
Sourcr has been a pretty impressive tool to help grow a recruiter's brand. When a candidate engages with an advert they see the consultant working on the role and their feedback ratings, which provides instant social proof that they're worth connecting with. For newer consultants that's a really powerful tool as they are growing their reputation in a competitive market.
As a tool it gives us more credibility, which, when you and your clients are competing for talent, can be priceless.

As a winner of FOUR Sourcr awards, how did you leverage the achievement?
We used a lot of that material to supplement our pitches for new work and tenders, and we used it in other marketing campaigns as well.
Winning any awards – let alone three company awards and four individually – was certainly an unexpected achievement for us! We definitely celebrated those that won it internally.
It's definitely a source of pride to know we have recruiters that deliver a great service, and it's supplemented our recruitment process for internal hiring too, adding another string to our bow. It emphasises our customer approach, helping us hire the right kinds of people, which is crucial to us. It's also nice as a new hire to know you'll be reporting into someone who's evidently decent at their job too!
We're a small agency, with 21 people. So when we interview, we know they're going to be meeting other businesses. Any competitive advantage we can gain is worth looking at.

Is the Archway team looking forward to the 2023 Awards?
Yes a few of our team will have crowns to defend and I know at least one of them is very motivated to defend it! Then there are some members of our team who don't like the fanfare as much, but will probably win anyway because they're fantastic recruiters!
I don't know if we'll be winning this year but I think we're on the right path internally. I know a few of us were recently notified that we're in the top 10% of all recruiters across Australasia using Sourcr, so that's an encouraging sign. It would be nice to retain as many gongs as we can. 
Archway Recruitment have introduced an innovative initiative to increase review collection this year
This is something that I drove! We were brainstorming for an initiative that could help us give back to the community, but also link with what we do and make our whole team feel involved, as well as our candidates and clients. We came up with the idea to donate $10 per Sourcr review to a charity of our consultants' choice each quarter. 
Clients and candidates know that providing a review results in a donation to a worthy cause. For us internally we're hoping that this initiative increases engagement so that we can even more accurately measure our  customer service performance. 
Last quarter we gave a large donation to Youthline, and this quarter all donations will be going to the Muriwai Volunteer Fire Brigade, who tragically lost two of their men in slips caused by the recent cyclone that his New Zealand.

What advice do you have for recruiters looking to enhance their online reputation?
If you talk to any personal branding expert they will definitely identify the importance of being authentic, genuine and consistent as pillars to building your online presence.
Your business or personal brand will crumble if you can't measure up to the image you're trying to portray, and you'll struggle to build a brand if you are not regularly posting or engaging with content relevant to your sector.
I'd be hesitant to say that Archway are a leader at this, but it's something we bear in mind! We are constantly reviewing our online presence and marketing focus, and certainly want to ensure whatever image we present ourselves as being online is something that we can genuinely back. 
Currently we focus on a mix of what we put out, combining value add marketing – which could be opinions, conversations, insights etc, with our weekly regular content. It's not always easy to make every post deep, meaningful or profound, but it's important to have some consistency online to help keep you front of mind.
_
A huge thanks to Matt from Archway for his time!