Here's the trouble with a lot of industry awards.
There's profit and loss to worry about, the time investment to enter and often an entry fee. There's an event for which tables are sold. And there's merchandise and all the accoutrements you need to share it in your marketing, like a plaque for the wall and other advertising fanfare. Someone's got to pick up the bill.
For most awards there's a panel of judges, possibly some unavoidable bias. Given the timely process and resources to enter- the true winners might not even submit.
The Sourcr Awards are different – there's no entry process, no submission, no gala event. It's an award program based 100% on the feedback from your clients and candidates – and if you're on Sourcr you're already in the runnning.
Return on investment
There's undoubtedly an ROI from an award. Even one you have to pay to win. Whether they help a businesses' marketing power, or their ability to hire, or their chances of winning PSL status, the ROI is inherent with their premise.
Win an award. Receive acclaim. Achieve greatness.
And for greatness, the price is… a lot. Plus the cost of the wall plaque. And entry in the magazine. And every extra seat at the event for the people who helped you win… like your FD.
Is the return worth it?
That's a calculation for you. Typically though, awards of this nature highlight a business. They're done for collective entities. Not individuals.
It's very unlikely you'd be able to sell an award to an individual.
So how do you get an award which not only highlights the sterling work you do as a company, but also the individual recruiters in that business?
How do you get an ROI loftier than any other?
Thoroughly glad you asked.
A free award, based on merit, not your bank balance
What you're about to read isn't a sales message. It's a stirring. A call to arms. A banging of the battle drum.
To enter our awards is 100% free. And the way we tally the results isn't based on votes or who's bought the fanciest table.
It's based on the placements you've made across a period of 12 months. Both as a business, and the people within that business.
It's based on the candidates and clients you do business with. They're used as the benchmark for how good a recruiter you are. Collectively and individually. Sometimes recruitment's a lonely old game. And sometimes it's a group effort where you all pitch in.
Those two situations might happen on the same day.
But the people with the authority to judge your ability aren't a group of voters sat outside judging from distance. They're the people you interact with on the daily. The people in the market. The people who judge with their feet and finances.
Payback
The payback on a free award isn't hard to compute.
And especially when your 'entry' is simply doing a good job.
It's a universally beneficial activity. You enter by placing people in dream jobs. By doing your job to the best ability you can muster. By servicing your market, and making money for your business.
It just so happens, doing that through Sourcr can give you a big reward you didn't even expect.
Here's a selection of last year's winners.
WOW Recruitment
Fuse Recruitment
3D Commercial
Six Degrees
Kennedy Reid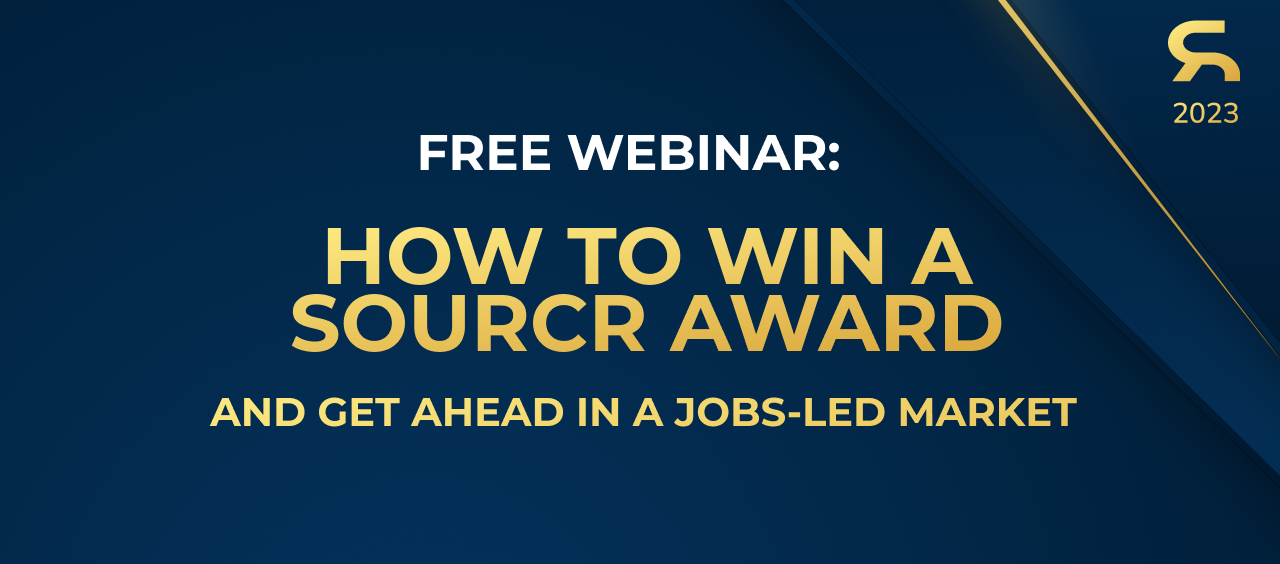 Recruiter webinar – featuring Dale Young, Sharp and Carter
Wednesday 19th April – 10:00am AEDT
Agency webinar – featuring Susie Rogers, Rusher Rogers
Thursday 20th April – 10:00am AEDT