Recruiters…
The likelihood is, you're interested in growing this year. You want more success. You want a better year than last year. You want more business, more top candidates, easier intros and you want it all inbound. 
If it sounds like a pipe dream to have all this, keep reading. There's a new feature on Sourcr that can help deliver all the above. 
Recommended Recruiter
A stand out profile highlighting you as a recruiter in the top 10% of recruiter profiles on Sourcr. That's not to be sniffed at. And you can use this badge anywhere on the internet. 
So, Sourcr, SEEK job ads, LinkedIn, your email signature, hey, even print it off as a bumper sticker if you want.
You're up to 5x more likely to build trust with a Recommended Recruiter profile on Sourcr. Beating your competition to the punch, and probably the deal.
The driver behind this feature is consistency and relevance – according to trustpulse, majority of consumers say that reviews older than three months aren't relevant anymore. We want to ensure that candidates and clients can easily find and identify recruiters who have recently received reviews with a high rating.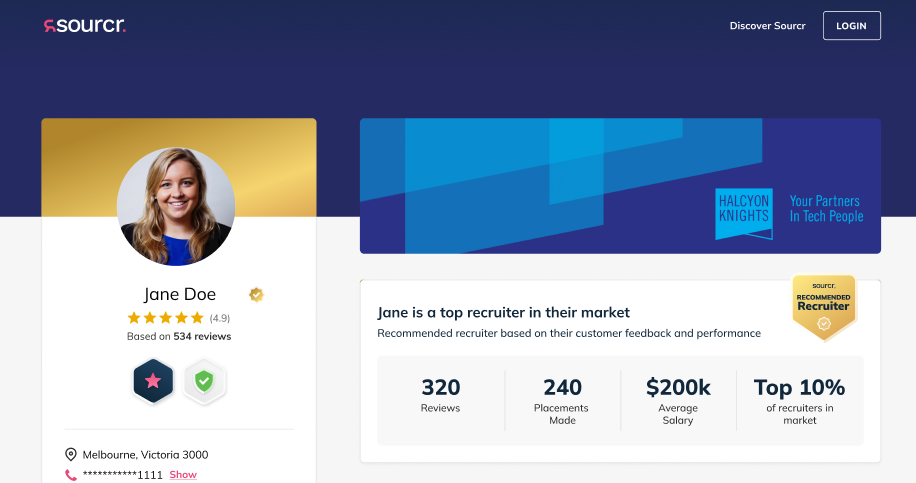 The best news?
The only thing you need to get a Recommended Recruiter badge on Sourcr and start gaining these competitive advantages is… do your job. 
The same job you're doing now. The same wonderful work you do for clients, day in, day out. All you have to do is consistently collect reviews, and maintain an average rating above 4-stars. 
So the only question I have now is… how good do you want to be? With Sourcr, there's no limit to your potential.
Log in and check your Recommended Recruiter status on the dashboard!
Not on Sourcr? Sign-up your agency for free.