Customer reviews influence how we feel about brands and their products, determine who we should trust and whether or not we should align ourselves with their messaging.  
Here are 10 B2B Customer Review Stats that you might not know: 
Reviews impact your perceived trust

 
A study conducted by BrightLocal found that 83% of the participants found business with the user-generated review on their landing page, trustworthy.
Reviews impact your website's search traffic 
According to MOZ's Local Search Ranking Factors Survey, online reviews are thought to make up to 10% of how Google and other search engines decide to rank search results. The more reviews you have, the more web traffic will be pointed in your direction.  
Star ratings affect your business
Having a 5-star rating on Google gives 39% more clicks from Google Local than having a 1-star rating.  Without quality reviews, you are missing out on potential traffic and on possible business. 
Research suggests that the optimum review/star level is anywhere between 4.2 and 4.5 stars.  In other words, don't create fake ratings – and if you're receiving lots of organic negative ratings, address them and attempt to rectify the situation from happening again in the future. 
An Indeed survey showed that 83% of job seekers base their decision on where to apply on company reviews, and 46% will weigh a company's reputation heavily before accepting a job offer. 
Bad reviews can be really bad
It doesn't come with a surprise that four out of five customers have changed their minds after reading negative online reviews. 
B2B reviews are particularly important
 Almost 92% of B2B buyers are more likely to purchase after reading a trusted review. 
Word-of-mouth now happens online
According to BrightLocal, 84% of people trust online reviews as much as a personal recommendation. 
More reviews influence your ability to sell
Businesses that claim their free listings on at least four review sites earn 36% more revenue than the average for their industry.
People tend to be more pessimistic
68% of customers look for either information on the reviewer's experience, or the problems the reviewer encountered. It's important that you respond publically to these reviews and address the reviewer's concerns to improve your perceived image.
Reviews seem to what make or break businesses in the digital age.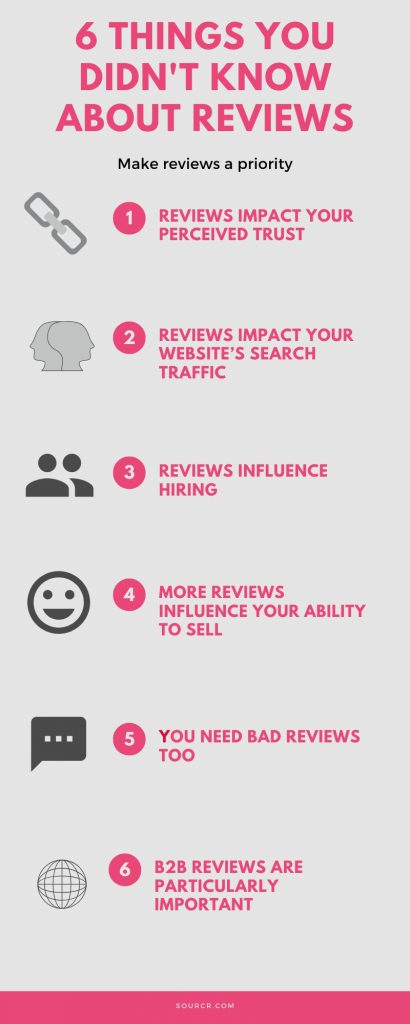 It doesn't matter if someone is looking to buy a vacuum cleaner or hire a recruiter, they will search online and read their peer's reviews beforehand.
Reviews are powerful.
Luckily for us all, reviews can be controlled, optimised and managed effectively. Click here to find out how!  
For more information on managing your company's reviews, please visit Sourcr's recent article on recovering from bad reviews.
Or save time and let us do the work for you by claiming your free profile with Sourcr now. 

RECOMMENDED READING  

If you enjoyed this post and have a little extra time to dive deeper why not check out the following posts on Reviews and how they can help grow your business. 

- Six Tips For Building A Personal Brand As A Recruiter 

- Here's How You Can Recover From Bad Customer Reviews  

- Six Tips For Building A Personal Brand As A Recruiter 

- How Customer Reviews Impact Google's Search Results