There may be less roles on the market currently, but with confidence we can say that this is short-term. Historically it's proven that downturns always end and the market will pick up again. And given the pace of the impact of the coronavirus, the recovery could be just as quick as businesses look to re-hire for the positions they have let go/put on hold.
There's an abundance of information out there on how to prepare yourself for the coming months, particularly when it comes to cash flow management and making quick decisions to ensure business survival.
But outside of these survival measures, there are several opportunities that agencies and recruiters can take advantage of. Recruitment guru Greg Savage has written a great article about how recruiters can survive AND thrive.
You can also find great examples of organisations that have thrived in economic downturns and a Harvard Business Review article from March 2010 dives into this.
In the study, they reviewed the performance of 4,700 companies prior to, during, and after three global recessions. The 1980 crisis, the 1990 slowdown, and the 2000 bust.
They identified that companies took a combination of 4 different actions, two defensive and two offensive.
The defensive actions were

employee cost reduction via redundancies and paycuts
And operational cost management – reducing ops costs that are not vital.

Offensively, they found that companies either

invest in market development – adding new product lines or expanding into new markets –  For recruiters this could be expanding in new marketing
or invest in assets such as marketing to increase visibility in their services
The common theme between Greg and HBJ is that now is the time invest in your marketing and brand (or as we like to say; your online reputation).
Investing in your brand doesn't have to be a costly strategy and doing so will not only maximise your opportunities in the current climate but also guarantees you will be in a stronger position once the market picks up again.
Every agency operates differently but below are my suggestions that will generally apply to most agencies to help them build trust and improve their online reputation.
Set up your brand on social and other pages
Most agencies will have a company page on both LinkedIn and Facebook, but the important step is to make sure they are full optimised to reflect your brand and value proposition. The recruiters in your team are an extension of your brand too, so make sure they are consistent.
A few must-do's are
High quality logo and profile photo images
A bio section that reflects your unique selling proposition (USP). Why clients should pick you over your competitors. This should be communication effectively and consistently to build your brand awareness. Include the markets you work to carve your niche.
Add your contact details – email & number… give prospects the option.
A bonus tip: Build even more trust with prospects by sharing links to case studies, testimonials and reviews. 87% of customers trust online reviews as much as recommendations which shows the value of social proof.
This applies to LinkedIn, Facebook, GoogleMyBusiness and your website. Also explore industry related sites such as Sourcr to maximise your online visibility.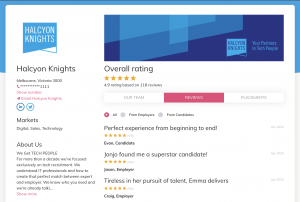 Speak to your customers
Sounds obvious right? But it's not just business development. Look at other ways you can potentially help by diversifying your offering, find out what they're struggling with and see if you can be of service.
Another idea is asking for feedback – a super powerful tool that can be used for both promotion and performance measurement. Use your customers voice to amplify your brand and build trust by promoting it across your digital footprint and monitor feedback to identify areas of improvement.
Engage on social
Make sure you and the team stay front of mind by being active on LinkedIn. Set team targets to make sure they are engaging with customer (and prospects) content, as well as producing your own.
Likes don't cut it. Leave comments, share posts and tag people to engage in open discussion.
Your customers may have very little to spend now but that doesn't mean that they don't want to hear from you. Continue to nurture new business and when the green shoots of recovery finally show, they'll be ready to buy.
Collect Reviews
Reviews are the most powerful source of organic marketing for your agency, the data proves it. Positive reviews have a massive influence on the decision making process for client and candidates and also help you stand out above your competitors.
Building a review strategy includes not only collecting them but making sure they are visible on the channels that matter the most. Reviews have huge SEO advantages to help you increase your listing on Google, all the way to helping optimise conversion rates on your job vacancies or sales efforts.
Make the most of existing marketing
You're likely going to be reliant on paid advertising such as job boards less. L0ok at other marketing tools such as email marketing and updating existing blogs as a low cost solution you can distribute to add value and stay front of mind.
Have a think about what else you already have at your disposal so you're making cost-effective marketing decisions.
Sourcr is committed to supporting recruitment agencies during the current climate. That's why we're offering our top tier product free to help recruiters take control of their online reputation through the power of reviews. Our software automates feedback collection and offers a suite of digital marketing tools help you build trust and credibility online.
And if you want some more tailored advice on how to approach your strategy contact us at support@sourcr.com and we'll do what we can to help.
Good Luck!


RECOMMENDED READING



- Career Building: Case Study

- Reasons To Claim Your Free Sourcr Profile